When not out with Tumbling Tom, Tony also plays harmonica, electric guitar and mandolin in the Lake District oldies band The Elderly Brothers, and acoustic guitar in (rival!) ceilidh bands Jigbusters and Jig-Run-Rigg. He also occasionally performs as singer - musician with storytelling legend Taffy Thomas.

Tony lives in Windermere with wife Zoe, a fine fiddle player.
Tony plays Overwater Perception 5-string and Fender Precision 4-string basses through an Ashdown MAG 300 amplifier. He uses Lee Oskar harmonicas, has acoustic guitars by Fylde, Taylor and Peter Abnett, and a Squier Telecaster played through a Fender Mustang 3 amp.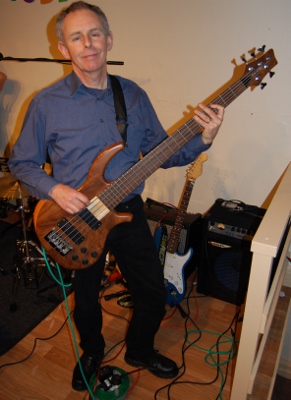 Tony - bass guitar and mouth harp
Tony grew up (physically at least...) in Sussex, and went to Durham University, where he discovered and later defected to the North. He taught himself mouth organ at age 11, acoustic guitar in his teens, mandolin and bass guitar in his twenties, and then ran out of room for instruments.
Having been a solo singer and guitarist in folk clubs in the seventies, he now mainly plays in collaboration with others. In Tumbling Tom, Tony plays bass on most tunes, but also plays harmonica and percussion at times. On bass, he follows the example of the great Ashley Hutchings in keeping a "skip" in the music, combining with Steve and Les to create compelling rhythmic support to the traditional tunes and dances.


Meet the Band - Tony