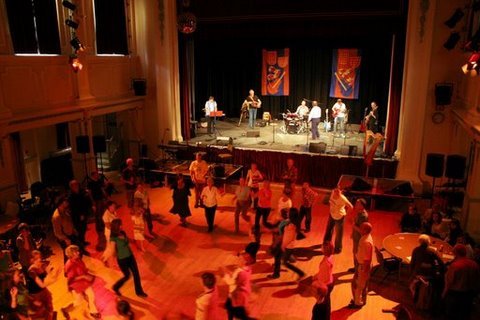 The band have played every sort of ceilidh - folk festivals, weddings, PTAs, village socials, May Day celebrations – you name it, we've probably done it. The Toms have performed at every major venue in South Lakeland as well as innumerable village halls, schools and hotels in the North West, Kendal Leisure Centre, Coronation Hall Ulverston, Forum 28 Barrow and the Brewery Arts Centre Kendal to name just a few. To view our ceilidhs since 2007, please see our Blog.
Our experienced and friendly callers will coax you and your friends onto the dance floor, whether you're first timers or experienced dancers. You give us your energy and we'll give you some irrestible dance tunes and rhythms.
Customer comment
s: Read some of the comments that we have received from recent customers -
Feedback
Combining the best in British folk music with roots, rock and reggae rhythms, Tumbling Tom has for many years been the leading ceilidh band in the area. The band developed as part of the new wave of folk dance bands that use predominantly English music with it's robust rhythms to get people onto the dance floor. Led by a melodeon, the 5 piece band also include keyboards, electric guitars, drums and bass to produce a lively sound.
News in brief:
The band, plus their horn section, were very pleased to be asked to play for the tenth year running at the Crook Morris Christmas ceilidh held on December 8th, 2018, in the Town Hall. It was a great event as usual, with our horns playing the whole evening.
More
.
We are excited to have been asked to play again in December 2019
Following our playing at the
Phoenix Ceildhs
in May 2018, the next time out for the Tumbling Tom Big Band was at the
Furness Tradition Festival
in July - short video clip
here from last year
- and we've been asked to play again this year.
See our
Blog
for information on previous ceilidh's


Home page